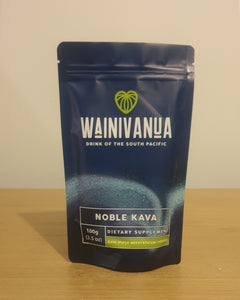 A traditional mix of noble four-year kava. Kava has been a core part of South Pacific cultures for centuries. Every batch of our kava is tested to ensure only pure, natural mind and body relaxation.
Certified Noble (Beverage Grade) Kava with an average of 7% kavalactone levels.
Cost: AU$22.90 (NZ$24.90*)
Note: if kava is only available for pre-order, this has been imported into Australia and is currently being delivered to our warehouse or clearing customs and TGA checks. Expected to be shipped out within two weeks.
*FX rates were calculated 21/11/22 via www.xe.com (1 AUD = 1.08330 NZD) with NZD rounded up to the closest $5 interval. FX rates will be recalculated on a monthly basis. Payment can be made in AUD to our Australian bank account.